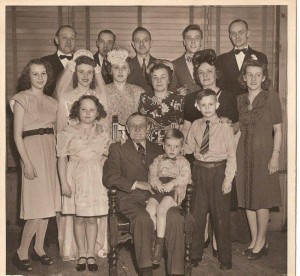 Back row: Henry Knatz, Charles Knatz, Sr, George Knatz, Charles Knatz, Jr, Phillip Knatz. Center row: Jean Knatz, Marion Knatz Urig, Helen Knatz Orsato, Christina Knatz Heron, Lorette (Laura) Knatz Malloy, Aileen Knatz Taylor. Front row: Marylou Orsato, CONRAD KNATZ, (Frederick Orsato – on Conrad's lap,) George Knatz, Jr.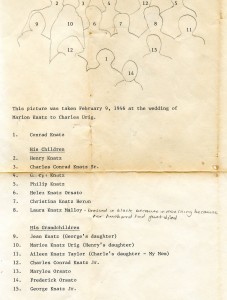 The CONRAD KNATZ family was researched by my cousins Carol Beards and Diane Taylor.  They provided the information below and I have included an excerpt of  the Conrad Knatz descendant chart made by Diane Taylor so viewers can check and see if they are related to this family.  Although our families overlap on the Knatz, Lechthaler, Trillich lines, Diane's family tree also covers the Eberhardt, Urig, Knoedler and Heller families.  Email her directly at dmttmt@msn.com for information about these other families. 
CONRAD Knatz married ANNA MARIE EBERHARDT in 1890. They lived on the lower East Side of New York City. CONRAD worked as a metal worker from the age of 11, in a place called "Jacksons". In his later years he worked there as a security guard.
CONRAD and ANNA had 10 children, 3 of which did not survive childhood.
(1) Annie B. was the oldest and lived less than 4 years.
(2)Charles Conrad (1893), whose information is below, was the next child born. Then came
(3). Christina (1894) who married her boss Bob Heron, an insurance broker.
(4) Lorette (Laura) (1896) who married George Frey. They divorced and she married Dann Malloy, an actor and director on Broadway. She traveled with him working in Off-Broadway theater up and down the East Coast. He died 12 years later and she worked at Macy's Department Store in New York City until she was 84. Laura died a few days before her 103rd birthday and was the source of much of the information written here.
(5) Philip (1897), who married Margaret Anna (Maude) Rich. He was a sergeant in the Army during WW1 and worked for a paint company.
(6) Henry (1898) was a dispatcher in the Railway Express Agency, married Helen Waters.
(7) Bertha, lived less than a year
(8) Stillborn child, not named.
(9) George (1906) worked as a printer, married Jennie Klersey.
(10) Helen Hilda, (1909) married Fred Orsato, an A&P Executive.
Charles Conrad Knatz, Sr., CONRAD and ANNA'S 2ND child was born 24 February 1893. He married Barbara Urig 21 June 1917. Charles and Barbara knew each other since early childhood and shared the same birthdate. Both of their parents owned grocery stores. They had 3 children, (1)Charles Conrad, Jr. (1921) married Margelia J. Wilson. They had 3 children, Irene, Mark and Janet. (2) Aileen Barbara Knatz (1923) married Raymond Eugene Taylor. They had 5 children, Barbara, Carol, Gary, Diane and Joan; (3) Edwin Robert (1925) married Madeline Mertz and they had 4 children, Robert, Kenneth, Katherine and Christopher.
Charles Knatz, Sr. enlisted in the Army in 1912 and was discharged in 1915 with the Rank of Private 1st Class. He had been a clerk in the 22 Corps of Engineers. He must have re-enlisted as we have records that show he also served in the U. S. Army from 19 June 1916 thru 3 Aug 1919. His son, Charles Jr., told us that his Father fought Pancho Villa on the Mexican border in 1916 with General Black Jack Pershing. When WWI broke out, his National Guard Unit must have been activated and he was again with the 102 Engineers putting up and taking down barbed wire in France. His sister, Lorette (Laura) said she remembered visiting him in the hospital with a leg wound.
CONRAD KNATZ and ANNA MARIE EBERHARDT were our Great-Grandparents; CHARLES CONRAD KNATZ and BARBARA URIG were our Grandparents; and AILEEN BARBARA KNATZ and RAYMOND EUGENE TAYLOR are our parents.
THE DESCENDANTS OF CONRAD KNATZ (BORN 1868, NEW YORK CITY)