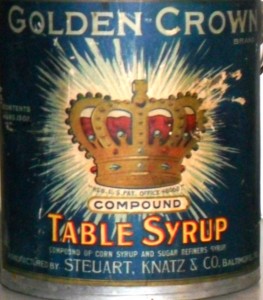 This page covers information about the Knatz family in Baltimore Maryland and also in District of Columbia and Pennsylvania.


The earliest record of a Knatz in the United States that I have found (other than the records of the Knatz Hessian soldiers who came to the United States to fight on the British side during the U.S. Revolutionary War) was on the first membership list of the Old Otterbein Evangelical United Brethren Church, located at Conway and Sharp Street in Baltimore, Maryland. The Old Otterbein Church was erected in 1785 by Reverend Philip William Otterbein. The Church was established in 1771 as a German Evangelical Reformed Church. Reverent Otterbein who had come from Germany in 1751 was a missionary to German colonists in Pennsylvania. By 1786, Otterbein has a growing interest in the Methodist movement and by the year 1800, Otterbein was part of the founding of the United Brethren and the Old Otterbein Church took on the new denomination (http://www.southbaltimore.com/church/Otterbein/otterbein3.html).
The earliest membership rolls bears the date 1785, the year the church was erected. The list is likely the head of the household, as no female members are listed. On the list is found the name
Jacob Knatz
In 2009, I visited the Old Otterbein Church to examine their records. There are some translated records in the Church office and there are records in the Maryland Historical Society in Baltimore. While I did not find any records related to Jacob Knatz, I did find two children born to Jacob and Catharina Knab. I thought there might have been a transcription error in the translation because there was no Jacob Knab on the list of Church members that I had. Two members of the Maryland Historical Society checked for me and the name is definitelhh Knabe and not Knatz. They also checked Ed Wright's book, Record of Old Otterbein and found no Knatz in it. It sort of makes me wonder if the Jacob Knatz record which came from the list of church members on Roots-web is correct.
Although my immigrant ancestor August Knatz and his brother were the first of the Knatz family to immigrant and settle in New York, there were already Knatz family members and related family members from Niedenstein already settled in Baltimore. I believe my immigrant ancestor August Knatz traveled to Baltimore and was found living in 1870 with the Geiger family whose father was a confectioner. In the 1880 US Census for New York, August Knatz listed himself as a baker. (Note: this August Knatz in Baltimore lists his age as only 18, whereas my August Knatz would have been at least ten year's older. But this is the only August Knatz that I have been able to locate in the US Census for 1870. And I have only been able to find one August Knatz who emigrated to the US.
Augusts' mother was Anna E. Lechthaler, born in 1809 and daughter of Anna Elisabeth Krug and Johannes Lechthaler. Anna's older brother Justus Lechthaler, a baker and grocer, born 1807, was already living in Baltimore when August Knatz emigrated. Justus Lechthaler was August Knatz's uncle. The 1851 Thomson's Mercantile and Professional lists "J. Lechthaler" and the address " 4 Shakspeare" as a baker of loaf bread (as compared with bakers listed for "ship bread and crackers."
The information seems to indicate a strong relationship between the New York Knatz family and the Baltimore Knatz family. The earliest membership rolls for the Old Otterbein Evangelical United Brethren Church in Baltimore Maryland, dated 1785 lists as a member Jacob Knatz. There are no other records that I have been able to find from Old Otterbein for other Knatz family members and I have not had time to further research Jacob Knatz.
In 2005, I was contacted by Stuart Knatz, who went by the name Brad. He told me that his father was Robert Steuart Knatz, Jr. Brad told me that his father said that his great-grandfather Philip Knatz came to Baltimore from Dresden, Germany in 1856 and operated Philip Knatz Family Grocery. Philp Knatz listed himself as being born in Hesse-Cassel which is the area of Germany where Niedenstein is and where August Knatz was born. Brad's father passed away on December, 12, 2009 at the age of 80.
In 1870 there were two other Knatz's living in Baltimore when August was there, a Philip Knatz and a Henry Knatz. Philip Knatz was a grocer and operated a store at 875 West Baltimore Street. Philip was born in Hesse Cassel in 1838. Hesse Cassel is the area of Germany where August Knatz came from. In 1870 Philip was 32 years old, married to Christiana (born 1838 in Germany) and they had six children. For Christmas, 1884, Philip gave his first son Edward G. a watch. The outside of the watch reads E.G. Knatz and inside the message is "from his father Dec 25, '84"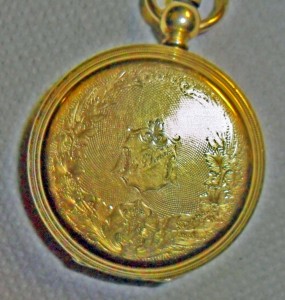 Philips Children are listed below:
1. Edward, born 1865
2. Lily, born 1867 (She married a Fangmeyer)
3. Philip, born 1869
4. Elmer, born 1875
5. Minnie, born 1876
6. Albert, born 1878
Stuart (Brad Knatz) is the great-great grandson of Philip Knatz the grocer.
Philip's son, Edward Gerhardt Knatz was a prominent member of the Baltimore German community. He was a partner with Robert Steuart in the Steuart Knatz Sugar Company in Baltimore. They made table syrup. The syrup is thicker than maple syrup and would be used like a condiment on bread like jelly.
The document below indicates that the two men had another company, the Enterprise Coffee Company company ran afoul of the U.S. Department of Agriculture as a result of shipping mislabeled a product called "roasted coffee Java flavor" across state lines. The product shipped was actually older and a different grade of coffee. The two men plead guilty and paid a $5.00 fine. The judgement was issued July 8, 1911. This document is incorrect in using Edward J. Knatz, it should have been Edward G. Knatz.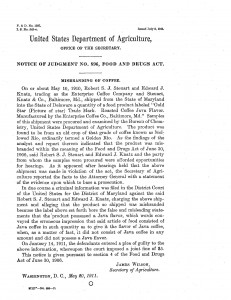 Edward Gerhardt Knatz's children were:
Edward Gerhart, Jr.
Philip Hoffman
??? Philip
Bolton
Robert Steuart
Francis (she went by "Sis" since she was the only girl)
Uncle Hoffman had a twin who died in infancy.
Brad tells me that his father said the boys were hard headed Germans who played by their own rules, and did not get along well as they aged. Except for Aunt Sis and Uncle Gary, he remembers them vaguely. This is my favorite story that has been passed down through the family:
"On a pleasant Sunday Afternoon, probably in the 1910's, the Knatz boys were playing baseball at the old home place. The local preacher happened upon them and asked, "What would your father think of you boys playing ball on the Sabbath!?" One of the boys replied, "Why don't you ask him yourself? He's on third base."
The other Knatz who is found in the 1870 census is Henry Knatz. Henry Knatz was a shoemaker. He was born about 1820 in Germany and he was married to Elizabeth and he had 6 children. He listed himself as born in Prussia. The area of Hesse Cassel became part of Prussia.
1. Matilda
2. Elizabeth
3. Henry
4. William
5. Charles
6. George
As these were large families, there were many descendants of both Henry and Philip that lived in the Baltimore area and there were many common names among them, like Edward, Philip, and Henry. Hopefully some of the Baltimore Knatz's will sort this all out.
In the 1910 U.S. Census for Hillsboro Maryland, is found a 91 year old woman named Elisabeth Knatz, born in Maryland in 1819. The census record indicates her father was also born in Maryland so he would have been born about 1790-1800, or possibly earlier. She reports her mother was born in Delaware. I will seek her death record to see if we can determine her parents names.
Passenger Lists through Baltimore are available from about 1820. The following Knatz are listed as traveling in through Baltimore early in the 19th century:
1. Martin Knatz, arrived in Baltimore in 1832.
( Source: Passenger Arrivals at the Port of Baltimore 1820-1834, from Custom's Passenger Lists. Generated Michael H. Tepper, Transcribed by Elizabeth P. Bentley. Baltimore Genealogical Publishing Co. 1982, page 346)
2. Heinrich Knatz, born about 1820, arrived June 16, 1848 on the ship Beethoven. He was a 28 year old shoemaker. Origin is listed as Mardorf, which could be misspelling of Maldorf.
2. Gerhard Knatz, born about 1823, arrived May 5, 1851 on the ship Marianne. He was a 28 year old miner. On the same ship was Margarethe Knatz, age 22 and Heinrich Knatz, a shoemaker, age 20. Their origin in Germany is listed as Maldorf (Schleswig-Holstein area of Germany?)
3. Conrad Knatz, born about 1825, arrived Sept. 8, 1851 on the ship Admiral. He was a 26 year old blacksmith. He listed his destination as Norfolk, VA. His origin is listed as Elben.
4. Elise Knatz, born about 1828, arrived 27 September 27, 1852, on the ship Goethe. She was 24 years old. Her origin was listed as Hesse. (Note- Niedenstein is in Hesse)
5. Balthar. Knatz, born about 1830, arrived September 7, 1854, on the ship Goethe. He was a 24 years old, occupation workman. His origin was listed as Hesse. Also on this ship was Anna Catharine Knatz, age 18. Both listed birthplace as Elben and they are from Hesse (Note- Niedenstein is in Hesse).
6. Philip Knatz, born about 1838, arrived September 10, 1853, on the ship Schiller. He was 15 years old, occupation farmer. His origin was Hesse.
7. Heinrich Knatz, born about 1843, arrived December 24, 1848 on the ship Admiral. He was a 15 year old servant. His place of origin was Altenstadt.
There are other Knatz family members who left Germany and emigrated through the Port of Baltimore, but these are the earliest records.
PENNSYLVANIA: In the 1840 census, a "widow Knatz" is found living in the Pennsylvania. The widow is the head of the household. There are six people living there. Two are males, one between 30 and 39, and one between 40 and 49 years of age. There are 4 females: one age 15 through 19 years, one age 20 to 29 years old, one age 30 to 30 years old and one age 60 to 69 years old. Assuming the widow is the individual ages 60 to 69 years old, she would have been born between 1771 and 1780, too young to be the wife of a Hessian soldier that fought in the Revolutionary War but young enough to be a child of a Hessian soldier. (But there is still no documentation to confirm whether a Hessian soldier stayed in America and had children, although I suspect that to be the case). In Pennsylvania, in 1870, the US Federal Census lists John Knatz, age 29 and Helen Knatz, age 26, living together in Philadelphia (11th Ward). I have not done extensive research on the Knatz family in Maryland, Pennsylvania and the surrounding areas.
There also was a John George Knatz, born in Germany in May 1859 who emigrated to Philadelphia in 1875. He was a barber and in the year 1880, he married a woman named Charlotte born November 1854 in Germany who immigrated to the US in 1872, They had the following children:
1. George E. born August 1882. George was a plate printer.
2. William M. born January 27, 1885. William married a woman named Anne and they had a daughter Mary. William was working as a clerk in the town office in the year 1900.
3. Albert E., born May 1886
4. Lilly C. born 1889
5. Bessie E. born 1890
DISTRICT OF COLUMBIA: The District of Columbia marriage licenses register 1: 1811-1858 by Wesley E. Pippenger lists three Knatz marriages:
1. Conrad Knatz to Elizabeth Falenstein, August 11, 1855
2. Katherine Knatz to Gustavus Hardig, October 17, 1854
3. Katherine Knatz to Lanehard Bartz, November 2, 1855
For those of you who are interested in the Knatz family from Lonaconing Maryland,  Please see this Descendant's Chart provided by Shawn McGreevy
Descendant Report Heinrich Knatz provided by Shawn McGreevy