Protokolle II, Bd 5 Nr. 1 Niedenstein Court Records 1742-1780
The following records are from the Marburg Archives, some with translations. I also have translations of additional records but no photographs of the records. In the future the other record translations will be added to this page of this website. There are also several photos of records that have not been translated. If anyone translates I would appreciate a copy to load on this website.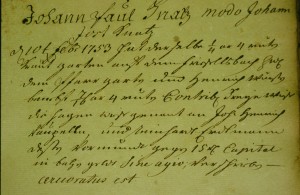 Johann Paul Knatz followed by Johann Jost (means inherited by)
10 February 1753 Loan on the herb garden on Frieseolback (river) between the church garden and Heinrich Ruste.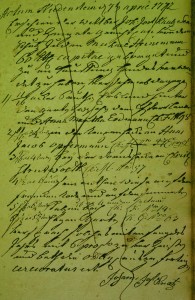 April 1772 Johann Jost Knatz Senior, received from Heinemann 60 Reichsthaler and he gave 6 properties as collatoral. The loan was paid back (it is crossed out.)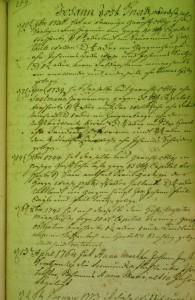 Johann Jost Knatz modo (meaning his widow)
April 7, 1739- loan of 40 Reichsthaler situated on 3 properties near Johann Knatz from Heinemann. Situated between Councilor Kroener and Friedrich Opfermann. (There is a good description of the property locations.)
4 Dec 1744- Loan of 115 Reichstalla, (the record is not clear who the loan is from. Collateral is another herb garden "Hagwiese meadow" (?). The second piece is situated between Johann Paul Beyle and Paul Knatz
6 Dec 1745- Loan from a hospital in Merxhausen
April 1764 Anna Martha, widow of Johann Jost Knatz made guardian over her daughter Anna Maria 10 years old.
27 Jan 1773- widow has been appointed guardian by the minister.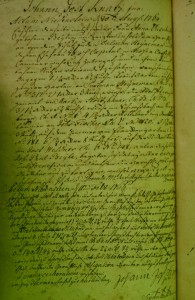 Johann Jost Knatz, Junior, 20 August 1764- appeared with his wife Anna Elizabeth Beyle, 70 Reichstalla from Keil Heineman. 6 pieces of land given as collatoral. Good description of the properties in the record. Johann Paul Beyle, Anna's Father was the creditor.
Feb 1766- from Burgermeister Johannes Krug, widow and heirs, they received 20 Reichstalla on land situated near Heiderich. Signature of Johann Jost Knatz Jr. His wife's signature is 3 "x's."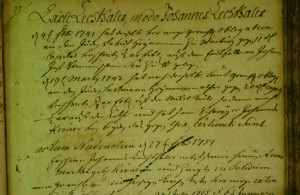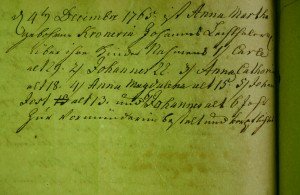 Carl Lechthaler modo Johannes Lechthaler
entries on this page refer to Johannes Lechthaler, not Carl. Modo means inherited by Johannes Lechthaler from Carl Lechthaler.
4 Feb 1741- Borrowed from Heinemann
1742- Borrowed from his brother-in-law Johannes Kroener
27 Feb 1751- Appeared Johannes Lehthaler and his wide Anna Martha Kroener
2 Sept.1755- Took out a loan with his brother Christoph Lechthaler
4 Dec 1765- Anna Martha Kroener, widow of Johannes Lechthaler was named guardian of her childred Carl (age 29), Johannes, (age 22), Anna Catherina (age 18), Anna Magdalena (age 15), Johann Jost (age 13) and Johannes (age 6).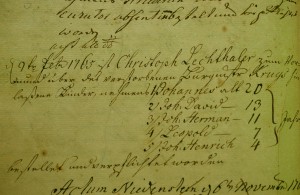 9 Feb 1765 Christoph Lechthaler became guardian of the deceased Burgermeister Krug children:
Johannes – 20 years
Johann David – 13 years
Johann Herman- 11 years
Leopold- 7 years
Johann Henry- 4 years
4 June 1763- Appeared Anna Barbara born Opfermann, widow of Johann Jost Heiderich to borrow. The guardian of her children, Paul and Anna Gertrud Heiderich came instead of her children. The record lists obligations from before and remortgages them. The collateral was land near the parish.
Modo Paul Heydrich (mean Paul inherits)
11December 1771- appeared Paul Heydrich and his wife Anna Maria born Hillebrand. They want to remortgage 21 properties in another town. They borrowed a total of 430 Reichstalla from Burgermeister Krug. The second page is a continuation of the Heydrich record and is a list of the 21 properties.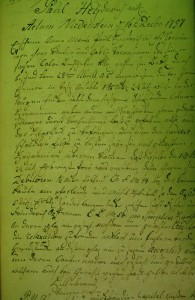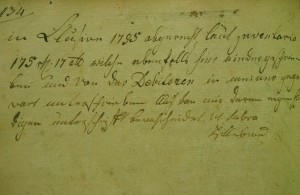 Paul Heiderich's widow Anna Maria becomes guardian of her children and announced that she, in the case of farmer (Colon? means farmer) Lechthaler from ? (here is an abbreviation of a town name) against her. By order of the 28th of April this year. She goes on to cite properties that were possessions of her husband. Part of this was meant to go to her brother-in-law (this could mean Johann Carl Lecthaler) and she wants to be free from the mortgage. (She is giving something to her brother and she wants to free of its mortgage. The case is against some properties of her former husband.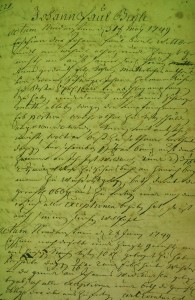 Johann Paul Beyle 31 May 1749- appeared as a widower and announced from his deceased wife Anna Gertrud Kuhn concerning the inheritance from his wife on his mother's side and he is receiving it from his brother-on-law Johann Herman Kuhn. He is receiving 87 Reichstalla as part payment of his inheritance. Loans were also noted on the following dates 23 Feb 1742, 2 June 1749 and 2 Sept 1746.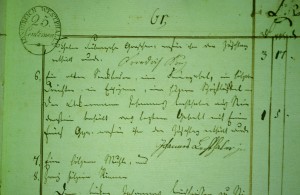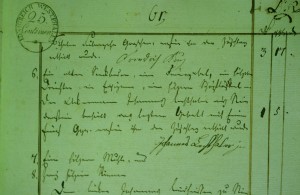 The above two records are from:
Protokolle II Nr. & Band 9 Martini Auction Records. These are the records of land bought at auction by Johannes Lechthaler.