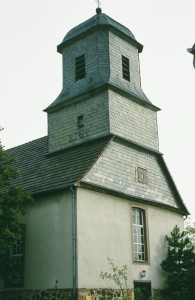 TRANSCRIPT OF NIEDENSTEIN CHURCH BOOKS
Extracts of all family lines for Geraldine Knatz (records on Knatz, Heiderich, Lechthaler, Beyl and Opfermann) Extracted by Gerda Haffner, October 5&6, 1987
BAPTISMS 1654-1686
1655 14 Oct-  daughter of Paul Knatz named Gertrude, witness his stepsister Gertrude, the daughter of Georg Bauer    (  Note:  Paul Knatz's mother must have been married twice, once to a Georg Bauer)
1657 13 Jan-  Paul Knatz daughter Anna Maria, witness Anna Oelwein from Wettesingen
1658 21 Feb-  Paul Knatz daughter Catharina (no witness given)
1659 20 Nov-  Paul Knatz son Henrich, witness Henrich Glopper of  Wichdorf
1661 5 Feb-  Johann David Heiderich's daughter Anna Maria, witness his mother-in-law Anna Maria Woelkemer of Lohne, wife of Laurence Woelkemer
1662 28 Jan-  Paul Knatz's son Johannes, witness the son of Johannes Wedderkind, miller
1663 9 Feb-  Johann David Heiderich's duaghter Anna Gertrud, witness wife of his brother-in-law Johann Woelkemer of Lohne
1664 17 Mar-  Paul Knatz's son Johann Jacob, witness Johann Keimer ( ?) of Wichdorf
1664 22 Mar-  Johann David Heiderich's daughter Anna, witness Anna Silber, daughter of David Silber
1665 24 Nov-  Paul Knatz's daughter Elizabeth, witness sister of his wife Elizabeth, daughter of Anton Oelwein of Wettesingen
1666 8 Sept-  David Heiderich's son, witness his father-in-law Master Laurence Woelkmer of Lohne (son's name not given, maybe Laurence? )
1667 24 Oct-  B. Paul Knatz's ( B may be Burgermeister Paul Knatz's) son Johann Jost, witness Henkel Schramm
1668 11 Feb –  M. (Master?) David Heiderich's son Johann Justus,
witness my son (meaning the minister's son) Johann Jost
1670 30 Jan-  David Heiderich's daughter Anna Martha, witness my
oldest daughter (meaning the minister's daughter) Anna Martha
1670 10 Jul-  Paul Knat.z·8 daught.er Anna Catharina, his stepsister Elizabeth, the wife of Hans Jacob Sonnenshein of Wickdorf
1672 15 Aug-  Paul Knatz's daughter Sybilla, witness Sybilla wife of Franz Kimm
1672 6 Oct-  David Heiderich's son Johannes, witness Johannes Weddekind
1675 25 Apr-  David Heiderich"s son Michael, witness Michael Weddekind
1677 18 Nov-  Paul Knatz's son Paul, witness Henkel Merten
1678 2 May-  David Heiderich's son Johann Jost (no witness)"
1679 7 Dec-  Paul Knatz's son Paul, witness Paul Sonnenshein, son of deceased Johannes Sonnenshein
1679 11 Dec-  David Heiderich"s daughter Sybille, witness Sybille Claussen, wife of Curt Claussen, ranger in Sontra
1683 1 Apr-  David Hiederich's son Johann David, witness Johannes Beyl (First mention of Beyl.  Name was spelled without the "e" on the end)
1684 10 Aug-  Johann Beyl"s son Johann Georg, witness his brother in Merxhausen, Georg Beyl
1686 2 Sept-  Johannes Beyl"s youngest daughter Sybille, witness the grandmother of the child, wife of David Heiderich
1686 16 May-  Jacob Lechthaler's son Heinrich, witness Heinrich Nelle, son of Johannes Nelle of Ermetheis  (First mention of Lechthaler)
CONFIRMATIONS 1654-1686
All Confirmations occurred on Easter
1654-Conrad Loewe
1656-Hans Heinrich Loewe, son of Johannes Loewe
1656-1668 no confirmations on lines in my family
1668- Gertrud Knatz
1669-  Anna Maria Knatz
1671-  Catharina Knatz
1673-  Anna Maria Heiderich
1674-  Johannes Knatz
1677-  Anna Heiderich, daughter  of David Heiderich
1680 –  Elisabeth  Knatz, daughter of Paul Knatz
1681-  Johann Jost Knatz, son of Paul Knatz
1682-  Anna Martha Heiderich, daughter of David Heiderich
1684-  Anna Catharina Knatz
Sybille Knatz
1685-  Johannes Heiderich, son of David Heiderich
1685-  Anna Catharina, daughter of Hans Heinrich Loewe             
1686-  Conrad Opfermann of Wichdorf                                                     
1686-  Anna Lechthaler of Niedenstein ( Note:  the birth of Anna Lechthaler is  not recorded in Niedenstein so  maybe her family moved in from someplace else.  I did not see any Lechthaler names on the 1685 plat map.
PROCLAMATIONS (Posting Banns for Marriages) 1654-1712
1654 Sept 18,19,20-  Proclamation of Paul Knatz, son of Herman Knatz. citizen and butcher of Niedenstein and Maria Oelwein, daughter of Anton Oelwein of  Wettesingen
1657 18th,19th 20th, P. Trinti. (Post Trinity- check church calender)-  Johann David Heiderich, son of deceased Claus Heiderich, blacksmith and citizen at Niedenstein and Gertrude Weddekind, daughter of Laurence Weddekind, blacksmith of Lohne
From 1657 -1676 there are no proclamations for my Knatz family names
1676 No day or month-  Johannes Weddekind, Miller (occupation) and Anna Maria Heiderich
1683 14th,15th,& 20th P.Trinti-  Johannes Beyl, blacksmlt.h, son of Martin Beyl inhabitant of Elgerhatusen and Anna Heiderith, daughter of David Heiderith, citizen and councilor here.
1687 22nd, 2.3rd & 24t.h Post Trinity-  Johannes  0ppermann (probably Opfermann), son of Johannes Oppermann. of Heymershausen and Elizabeth Mehlberg (last name could be Mehlbach which we noted in other places) daughter of Johannes Mehlberg from here
1687 13th,14th & 15th Post Trinity-  Johannes Beyl , widower and Elizabeth, daughter of Herr (master) Paul Knatz
1689 First Epiphany-  Johannes Knatz son of Hrn (abbreviated Hrn in church books- means Herr) Paul Knatz and Anna Margareta?
MARRIAGES Extracted from Niedenstein Church Books (1654-1712)
Notes start from 1687-Where are the earlier records?
1667 10 May-  Henrich Knatz son of Herr Paul Knatz and Maria, daughter of Johannes Gaul
1687 10 Nov-  Johannes Opfermann of Heymershausen and Elizabeth daughter of Johannes Mehlbach
1693 3 Dec-  Johannes Heiderich and Anna Maria Boetten
1697 30  Sept-   Michael Heiderich and Maria Christina Sachs
1701 18  Oct-  Johann Paul Knatz son of Herr Paul Knatz and Anna Dorothea Mueller, daughter of Hrn Hans Jacob Mueller
 1712 14 Nov-  Paulus Opfermann and Anna Gertrud Weddekind