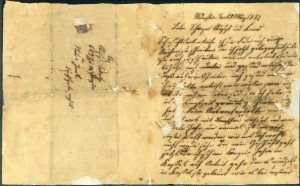 When I started my search for my family, I visited the Luteran Cemetery in Queens, New York City. The cemetery is known today as All Saints Cemetery. The Knatz family has a large plot there. For more information about who is buried there, see the Knatz Family Cemetery page. Although the plot was large there were not any large stones but a small flat plaque that said "Mother Father" I noticed fresh flowers on this stone. Later my Aunt Evelyn MacCormack visited the cemetery. We were trying to find out who put flowers there. The office worker at the cemetery would not give out that information but when she walked away from the counter, my Aunt saw the name Laura Malloy and memorized the address. She sent it to me. I wrote a letter and got no answer. At the time, I never thought to look in my family database because I knew there were no Malloy's in the database. Had I looked, I would have found a Laura Knatz born in 1896, daughter of Conrad Knatz and Anna Eberhardt. A year later I wrote again. Shortly after mailing that letter, I got a call one Sunday afternoon. This was probably about 1985. The voice sounded like my Aunt Georgianna but it was Laura Knatz Malloy, the daughter if Conrad Knatz and Anna Eberhardt. I told her I was doing research on the Knatz family and she told me she would send me some letters she had in German that no one could read. I waited by the mailbox….. In the package were three letters written from Niedenstein Germany to August Knatz, my immigrant ancestor in New York city. These letters are probably the most precious things I posses. In addition to the letters from Niedenstein, there were letters from the town of Forst, because August's wife Anna Trillich was from Forst. (Someday there will be another website on the Trillich branch of the family). The three Niedenstein letters are here along with their translations. You might note the letters are written in the old German script which used a different alphabet. Most German's today can no longer read these letters. The letters were translated for me by Mrs. Erika Burke, a secretary who worked at the Port of Long Beach. The letters were in poor condition and I took them to the Huntington Library and had them restored, backed on Japanese tissue and encased in mylar for preservation.
The first letter is the oldest letter, written in 1872. Above is the image is of the outside of the letter. You can see that the letter was folded into a small square and sealed with red sealing wax.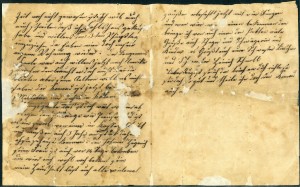 The translation is as follows:
Niedenstein, March 19, 1872
Dear Brother-In law August and Konrad.
Longingly I take the pen to write you a few lines since I have an opportunity now to send them to you. As far as we are concerned, we are still alive and healthy. We hope that my letter will find you and your household healthy. We don't even know if you are still alive, because during the war I have written twice and have received no answer. We should keep exchanging letters t even if it is only once a year, because in this world we probably don't see each other again. My business is going well, for a number of years I have worked in Kassel because there is a lot of building now going on in Kassel, more than in our time. I will also tell you that I have bought the Koh1shaus and intend to move in the third Whitsuntide day, we will then have our own home again. The Lengeman's Karle is now willing to go to America since he does not have to go into the Army, but his parents do not want him to go. Konrad is in the Army now and is stationed in Koblens with the ( text missing)guard. That is so far from here, and as long as we are Prussians it would be better if one could stay in Kassel since they have to stay in the Army for 3 years before they can go home. The wife of Johannes Haegerich (or Heiderich?) died 14 days ago, you will remember her. My household sends all of you greetings, it consists now of four boys and should we have another one, then I will name one of you as godparent. Many greetings also brother-In-law and sister-in-law and children, it greets you your sister Lieschen and brother-in-law
Heinrich Schmoll
Dear August, even though I am addressing the letter to you, please be so kind and share it with Konrad.
(This letter made me wonder- is Heinrich Schmoll referring to the US Civil War because August Knatz was in America during the Civil War?)
THE SECOND LETTER IS DATED 1784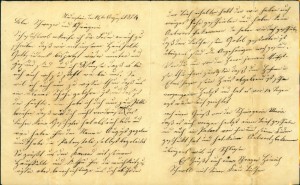 The translation is as follows:
Niedenstein, August 16, 1874
Dear Brother-In-Law and Sister-In-Law.
Longingly I take the pen to write to you that we at our household
are until now again happy and well, thank God, and I wish that it
is the same with you as is with us. So I want to let you know that
a little son was born to us, and it is the fifth one. I have named
you as godparent, I think it is alright with you because Lisschan
(little Lisa) has no brothers or sisters but just the two of you.
We have given him the name August and I myself have taken the place
of the godparent. So give our greetings to Konrad and his household
and give him the news, but let us know if you received this letter
because we have written to you last year and did not receive an
answer. We have written you then that Lieschen's Gotel has died,
by-the-way the folks are still healthy. Should you meet someone
from the Hahnen's, let them know that the house of' the Hahnen in
Elmshagen has burned down last f'a11, and only 14 days ago has he
finished rebuilding.
Also greetings from sister-in-law Maria, she has written a letter
last fall and also send a parcel from her and the children, and
has received no answer. Now I will close.
It greets you, your brother-in-law Heinrich Schmoll with his wife Lischen.
THE THIRD LETTER IS DATED 1887
The translation is as follows:
Niedenstein, November 18, 1887
Dear Sister-In-Law:
We received both of your two letters, first the sad message that your
husband died and secondly the pleasant one that all of you are healthy and that the dear God has freed the husband from his suffering. I would have sent an answer sooner, but we have one boy who could leave school at Easter and I wanted to wait if he can go along, because he is the one I have named after your husband, August. I intended to write while ago but never got around to it, and we have two years ago sent you during the summer two nice sausages to bring you some pleasure with a german sausage, one for you, dear sister-in-law and one for the dear brother-in-law Conrad. I sent them with a man named Obach who used to live here in the windmill but left 10 years ago for America and was visiting here. He had promised me with a handshake to take care of it, because he knew where August Knatz was living and I have questioned this man about August and Conrad because it was said hereabouts that August was already dead but Obach said that was not true, because only a short time ago he transported with him a deceased person in a hearse. The brother-In-law Conrad should know Obach very well from a long time ago. When you write again, let us know if you ever got the sausages or not. Dear sister-in-law, you are asking for the girl, it is impossible for us to send her because she is going to be 12 years old and is valuable to the mother, because with 8 children there is a lot of torn stuff, so you can deduct her. Dear sister-in-law, we have the two oldest ones who are masons or bricklayers, another one who has finished school is a tailor and another one is learning to be a shoemaker. The tailor is 18 years old and the shoemaker is 16 years and maybe you can do something there for them and they can come there, but they don't know about this writing. The shoemaker is learning the trade in Kassel, and the tailor had learned his trade there also and still works for the master tailor where he learned under, and both are doing good. Dear sister-in-law, you wrote about war, there was also a lot of talk about war here this spring but it won't happen so easy. I will tell you about our good sister-in-law Knatz, she does not write because she now has a good job, plenty of work• and she is a hard worker, you have to say that about her. She has given away her property to the second boy named Johannes. His wife is from Wichdorf and he has married well. Justus married first but his wife had nothing. Justus received two or three pieces of land from her estate and has now bought a house to go along with the land so he has his own home. Johannes had received fifteen to eighteen acres of land from his in-laws, two cows and others, and moved in with them. Johannes has only one horse, but by now he has eight to ten pieces of cattle. Dear sister-in-law, please also send this letter to brother-in-law Conrad Knatz, with many greetings from all of us,
respectfully
Heinrich Schmoll
I am asking for an answer, because you have not written for a long time